TorrentGrabber – check for your new TV show episodes and get them loaded to your Torrent Application automatically.. and get notified when they arrive!
I love all the free & legal content you can get from around the globe. I especially like when broadcasters and other sources put their content up for free so we can legally download it. What I don't like is being bombarded with ads and other junk when I visit legal torrent site so I wrote TorrentGrabber to go off and automatically download the shows I like.

Please only use TorrentGrabber to download TV Shows you are LEGALLY allowed to download. We do not condone the use of Torrent Grabber for illegal purposes so don't do it!!
TorrentGrabber allows you to enter in your favourite TV shows (may I recommend the legal and free TorrentFreak TV which is great or shows from http://vodo.net/) and set what season and episode you are up to.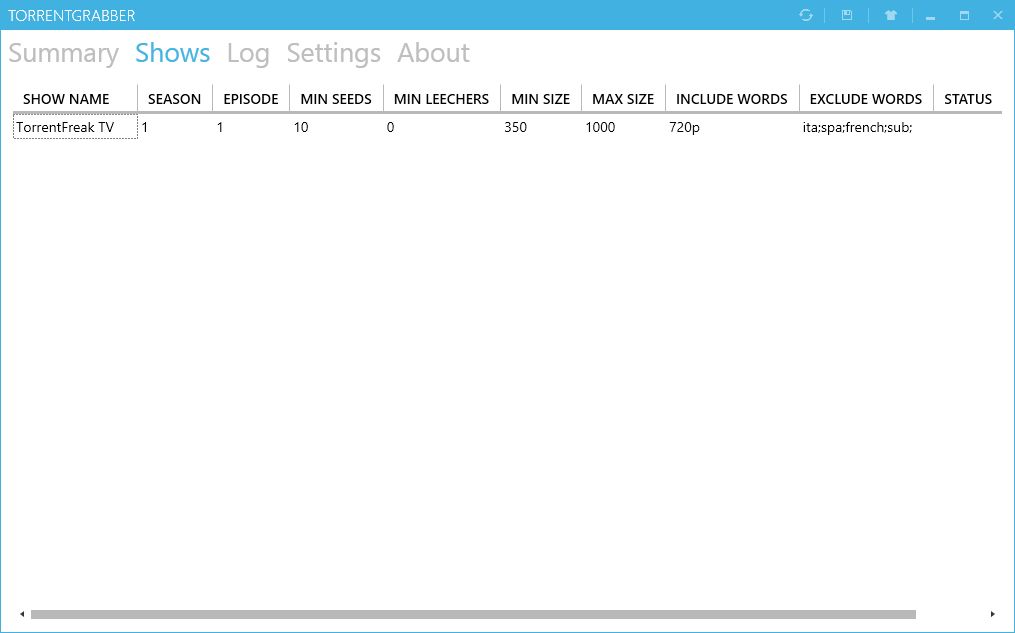 TorrentGrabber sits in your windows system tray and will then check periodically and if it finds a new episode it will grab it for you and push it to your Torrent Application. If you are really feeling adventurous it can also email you via SMTP when it finds a new episode for you!
For each show you can set TorrentGrabber to look for a different criteria and only download shows that match. You can filter your TV shows using the following items:
– Minimum and maximum Size: only download the torrent if it is within your min and max sizes
– Seeders and leechers: Only download if it has more than the pre-defined seeders and leechers
– Include & Exclude Words: Only download if these words are found/not found in the torrent name e.g. 720p
TorrentGrabber has a realtime log viewer so you can see exactly what it's been trying to find for you as well as summary screen which gives you an at-a-glance view of your current TV shows and the last time it was able to find a valid torrent. Which is helpful if you're trying to work out why it hasn't grabbed your favourite show for this week.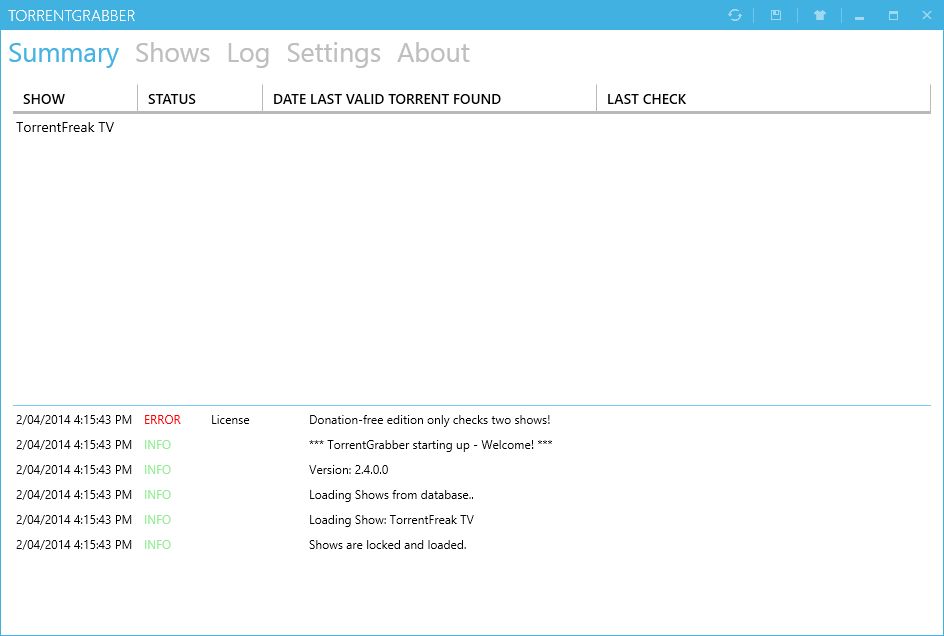 TorrentGrabber is very flexible – if you only like a certain size or from a specific uploader you can grab these torrents easily. Once an episode is found TorrentGrabber will then start looking for the next epsiode in the current series automatically.
Give it a try and tell me what you think! Download the .zip below, extract it to a folder and you are ready to go.

*** Update 13/11/2014: Torrent Grabber v2.5 Now Released ***
Download
Download "TorrentGrabber v2.5" TorrentGrabber_Setup.exe – Downloaded 8654 times – 5 MB
Donations & Questions
TorrentGrabber will automatically manage 2 shows straight out of the box. If you want more you can donate to my t-shirt fund and you'll receive a donation key to unlock the ability to have as many shows as you want!
If you have any suggestions, problems or questions hit me in the comments below!
I hope someone finds this useful – If you do you are welcome to donate to my tshirt fund..

Happy TV'ing!
TheNinja.
TorrentGrabber – Get your tv show torrents automatically
was last modified:
October 4th, 2016
by