TorrentGrabber – check for your new TV show episodes and get them loaded to your Torrent Application automatically.. and get notified when they arrive!
I love all the free & legal content you can get from around the globe. I especially like when broadcasters and other sources put their content up for free so we can legally download it. What I don't like is being bombarded with ads and other junk when I visit legal torrent site so I wrote TorrentGrabber to go off and automatically download the shows I like.

TorrenGrabber v3 now automatically downloads your show information & covers and makes sure you are up to date by giving you a visual breakdown of where you are up to in the season and also provides all the air times of your favourite shows.
Please only use TorrentGrabber to download TV Shows you are LEGALLY allowed to download. We do not condone the use of Torrent Grabber for illegal purposes so don't do it!!
TorrentGrabber allows you to enter in your favourite TV shows (may I recommend the legal and free TorrentFreak TV which is great or shows from http://vodo.net/) and set what season and episode you are up to.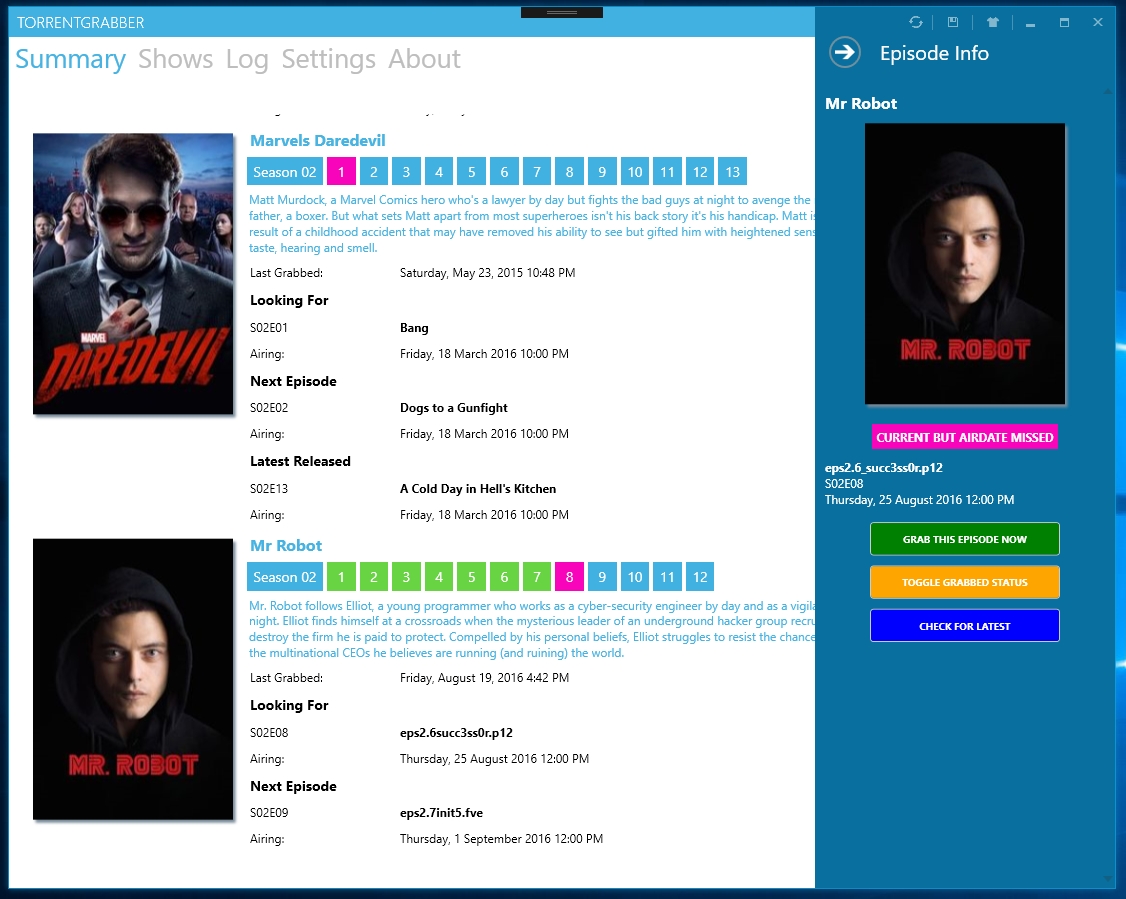 Features
Visual Summary – Visually see all episodes of a season TorrentGrabber is actively looking for in each Show you are tracking
Keep track of shows air dates and visually see that TorrentGrabber has grabbed/missed/waiting for a currently aired show
Email and/or PushBullet notifications when a new episode is grabbed
Filter by size, keywords (1080, 720p etc) and seeders/leechers
Run at your machine's startup and TorrentGrabber will run in your system tray checking for shows automatically without any intervention – great for MediaCenters like Kodi, XBMC, Emby and Windows Media Center!
Download
Download "TorrentGrabber v3.1" TorrentGrabber_v3.1_Setup.exe – Downloaded 7443 times – 7 MB
Donations & Questions
TorrentGrabber will automatically manage 2 shows straight out of the box. If you want more you can donate to my t-shirt fund and you'll receive a donation key to unlock the ability to have as many shows as you want!
If you have any suggestions, problems or questions hit me in the comments below!
I hope someone finds this useful – If you do you are welcome to donate to my tshirt fund..

Let us know what features you like, what you would like to see, and what features you hate. Would love to get some feedback in the comments.

Happy TV'ing!
TheNinja.
TorrentGrabber v3 – Now with 100% more grabbing!
was last modified:
October 4th, 2016
by